Our plans to see one of those indie bands I like, Car Seat Headrest, perform at Mass MoCA in North Adams, Mass., began more than 2 years ago. I snapped up 2 tickets in January of 2020 in advance of the band's new album dropping and plotted to rope Deborah into going outside her musical comfort zone to join me at the concert. We'd turn it into a weekend otherwise filled with dining, art, and hiking.
But the COVID-19 pandemic postponed the April 2020 show to September 2020, and after that got nixed, I kind of figured that was that. But I was surprised to see the show was back on for this March 25, so arranged for an Airbnb and loosely scheduled some art museum visits and hiking.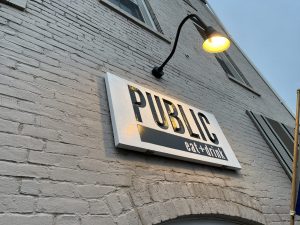 We started our weekend adventure, after the roughly 2-hour-30-minutes-to-3-hour drive, with a Friday night dinner at Public Eat+Drink. You might pass right by the restaurant's nondescript exterior, but inside the place was buzzing with patrons, and many were being turned away with apologies. We sat at a high-top table near the entrance, adjacent to a waiting area couch where dates were getting frisky. The staff was friendly and helpful, and the drink and food selection was appealing. We both went for the scallops and risotto, served in an iron skillet. Each of our dishes featured 5 juicy scallops atop the risotto, flavored with onion and in Deborah's case, roasted red pepper coulis. She also ordered a fried brussels sprouts appetizer (ordered extra well done), the uneaten portion of which combined with risotto leftovers to provide for a nice lunch the next day.
From there we headed to the Massachusetts Museum of Contemporary Art (Mass MoCA). The vast, 25K square-foot building on the Hoosic River was built in the 1860s and served for decades as Arnold Print Works factory. With the decline of manufacturing, in the 1940s the Sprague Electric Company took over the site. But it wasn't until 1999 that MassMoCA became the place for large-scale art installations as well as a great spot to attend a concert and party like it's, well, 1999.
Masks were required at the spacious, indoor venue, and proof of vaccination needed to be shown. The sound in the venue was crisp, starting with opener Bartees Strange, and a well-synced light show propelled Car Seat Headrest through its set, with every few songs eliciting crowd singalongs, fist pumps, or cellphone flashlights. Lead singer Will Toledo sported a gas mask with animal ears and lit-up eyes throughout the show (we wished he'd ditched the headwear partway through), but his voice still sounded clear. I enjoyed the show, as did my wife, though her favorite song was actually when compelling guitarist Ethan Ives rocked on with a tune that comes from a side project of his. Somehow rock n' roll stardust follows Deborah wherever she goes.
While our legs got a workout at the sold-out, standing-only show, we forced them back into action Saturday morning for a hike on Mt. Greylock. We originally planned to summit the highest peak in Massachusetts, starting from the trailhead on Hopper Road in Williamstown, but decided instead to take the Money Brook Trail and hiked along the fast-moving water. With the trees not yet in leaf, we had water views the entire way. We never made it to the top of the falls, as we found one part impassable (or at least 1 of us did…), but still enjoyed roughly 2 hours of moderately up and down hiking. As we learned later, there are other routes to the falls that might get you there more easily.
During the afternoon we returned to Mass MoCA ($20 per adult), this time to see the art. We devoted 2 hours to exploring the museum, but you could easily take more. Among the grabbiest installations we saw were Marc Swanson's spooky Memorial to Ice at the Dead Dear Disco, Glenn Kaino's walk-through In the Light of a Shadow, and Jenny Holzer's endlessly readable Truisms (we've seen her stuff at Wellesley College's Davis Museum, too).
For dinner, on the recommendation of friends who used to live in neighboring Williamstown, we hit the lively Trail House Kitchen & Bar, owned by a local resident and packed with a fun-loving crowd. My wife tried out the small caesar salad topped with salmon. The salad was small, as advertised, and the salmon plopped on top dwarfed the greens. She pronounced the meal visually unbalanced but tasty. The leftover salmon, plus leftover stuffed mushrooms made for a good dinner the next night as well.
Our final day included a short trek past lovely Williams College to the Clark Art Institute ($20 per adult). Like Mass MoCA, this is a spacious museum, though the art selection couldn't be more different. The Clark features impressive collections of American and European paintings from Renoir, Cassatt, Inness, and others. It's been on our list of places to go for a long time, and it was excellent.
A special exhibit on Artists Witnessing War included fascinating Civil War illustrations from Winslow Homer, who was embedded with the military  as an artist (the museum is free to veterans and active military members through May, by the way). We spent about 90 minutes at the Clark and easily took in everything, though we had to hit the road, so didn't take advantage of the scenic hiking trails surrounding the museum that could stretch an outing there through much of a day.
On the way home, GPS routed us briefly through New York, and then we hit the Pike only to be treated to what we hope will be the last hail of the season. A great way to kiss winter goodbye and say hello to what we hope will be a spring full of new adventures.
---
Beyond Natick—Worcester Art Museum is a nearby gem
Beyond Natick—a 2-mile walk around Weston Reservoir
Beyond Natick—visiting Block Island
---
Subscribe to our Natick Report daily email
Please send tips, photos, ideas to natickreport@gmail.com